Product
Contact Us
Zhongshan Sinolux Electrical Appliance Co.,Ltd.

Contact: Tammy Lin

Address: NO.3 Lane 11 Guangqing Street,Lie Xi Yi, Xiaolan Town, Zhongshan City, Guangdong,China
Tel: +86-760-
22285002
Mob: +86-13302822192
E-mail: contactsky@vip.163.com
Web: www.sinolux-lighting.com
QQ: 369165891
Skype/Wechat/WhatsApp: 13302822192
Industry trends
Osram Introduces Wireless Site Lighting Control Module to Extend ENCELIUM Light
Updated:2018-05-07Clicks:1006


Osram announced its Wireless Site Lighting Control (WSLC) Module, extending the ENCELIUM® EXTEND Networked Light Management System capability to a building's surroundings or site such as parking lots, pathways and private roadways. The ENCELIUM® EXTEND system is a flexible and powerful way to manage the interior and exterior site lighting of buildings. It is the only light management system that can gather data from a range of lighting component suppliers to tailor lighting usage with changing requirements, making any building interior and exterior lighted spaces fit for the future.
"Osram's new Wireless Site Lighting Control Module allows specifiers, architects and facility managers to take another step forward in their quest to design true smart buildings," said Tom Shottes, Head of Osram Digital Systems, Americas Region. "Extending ENCELIUM's control features to outdoor spaces allows our customers to save money by operating one complete system while continuing to benefit from the convenience and safety features they are accustomed to for their internal lighting systems."
By extending the capabilities of the ENCELIUM® EXTEND system, the WSLC Module provides wireless lighting controls capability. It installs on top of a light pole via an ANSI C136.41-compliant, 7-pin twist-lock connector. The WSLC is individually addressable via the ENCELIUM® EXTEND system and can switch luminaires ON/OFF via an integrated high current relay, dim luminaires equipped with 0-10V dimming drivers or ballasts, DEXAL™ or DALI dimming drivers or ballasts and has an input for an external occupancy sensor.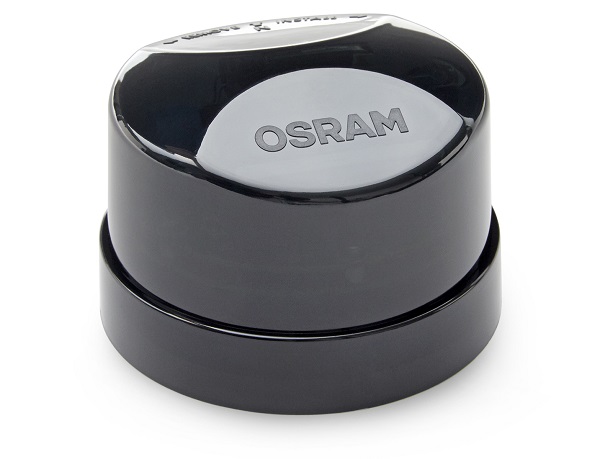 (Image: Osram)
Configured using ENCELIUM software, the WSLC Module offers the following key features and benefits:
Up to 10A switching control
Compatible with 0-10V, DALI or DEXAL drivers for ON/OFF and dimming control
Wireless control
Controlled via ENCELIUM Polaris 3D® enabling
o Time scheduling
o Astronomical clock operation
o Daylight harvesting
o Partial OFF states
o Occupancy mode
o Energy reporting/metering
Autonomous operation via photocell
Input for external occupancy sensor
Sleek low profile
The WSLC Module is now available in the Americas Region.