Product
Contact Us
Zhongshan Sinolux Electrical Appliance Co.,Ltd.

Contact: Tammy Lin

Address: NO.3 Lane 11 Guangqing Street,Lie Xi Yi, Xiaolan Town, Zhongshan City, Guangdong,China
Tel: +86-760-
22285002
Mob: +86-13302822192
E-mail: contactsky@vip.163.com
Web: www.sinolux-lighting.com
QQ: 369165891
Skype/Wechat/WhatsApp: 13302822192
Industry trends
OSRAM's Traxon Launches ProPoint Wall Washer Series
Updated:2018-05-07Clicks:863


Traxon Technologies, an OSRAM brand and global leader in dynamic lighting solutions, announced the launch of the ProPoint Wall Washer Series, Traxon's most complete offering of products for wall wash and flood applications.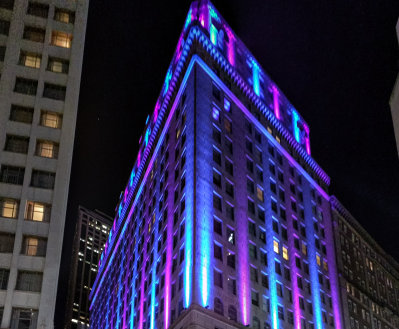 (Image: Osram)
The ProPoint series was developed to help lighting designers and architects create dynamic and engaging lighting for outdoor environments. The portfolio includes five lumen packages across four form factors and comes in three color solutions: RGBW, dynamic white and static white. With no data injectors required, the luminaires enable simplified installations, are controllable via DMX and employ Remote Device Management across all sizes and solutions.
"With the new ProPoint Wall Washer Series, lighting designers and facility managers can be assured they are using the best product to fit their needs depending on the size and surface of the project," said Dwight Kitchen, General Manager, Traxon North America for OSRAM Lighting Solutions. "With the series, designers can source exactly the right solution for their project, whether they seek color-changing festive facades, historical buildings showcased in shades of white or one-for-one replacements of white light HID solutions."
Traxon's ProPoint Wall Washer Series comes in a variety of sizes, colors and outputs, making it the perfect solution to fit the unique needs of a variety of outdoor lighting applications including building facades, bridges and sports facilities. The ProPoint Series offers the industry's most aesthetically appealing design, without compromising the products' performance.
All products in the series offer an AC line powered, high-brightness luminaire, which is controllable via DMX512. Additionally, Remote Device Management (RDM) circuits are built into each luminaire to enable extensive control and monitoring of the entire installation.
The series offers five different wattages (20W, 40W, 80W, 120W and 180W) as well as the following brightness levels for each of the three color temperatures available: RGBW (W-4000K), dynamic white (2200K-6500K) and static white (3000K or 4000K). The series also meets the following standard requirements/certifications: cETLus, FCC, RoHs, IK 9/10, IP66, ANSI 3G Vibration and Coastal Finish Standard.